The most recent AWT 'Missing Tombs' Tour was lucky enough to be in Luxor on the day of the press conference announcing the discovery of 30 coffins in a cache at Asasif, Luxor. Tour Manager Janet Shepherd Reports
Chris Naunton and I arrived as the conference was being set up in a large tented area in front of Hatshepsut's Temple at Deir el Bahri, close to the lesser known Asasif Necropolis. Many of the coffins were still under wraps and we joined the crowd of expectant photographers to wait for announcements as the stage was being prepared.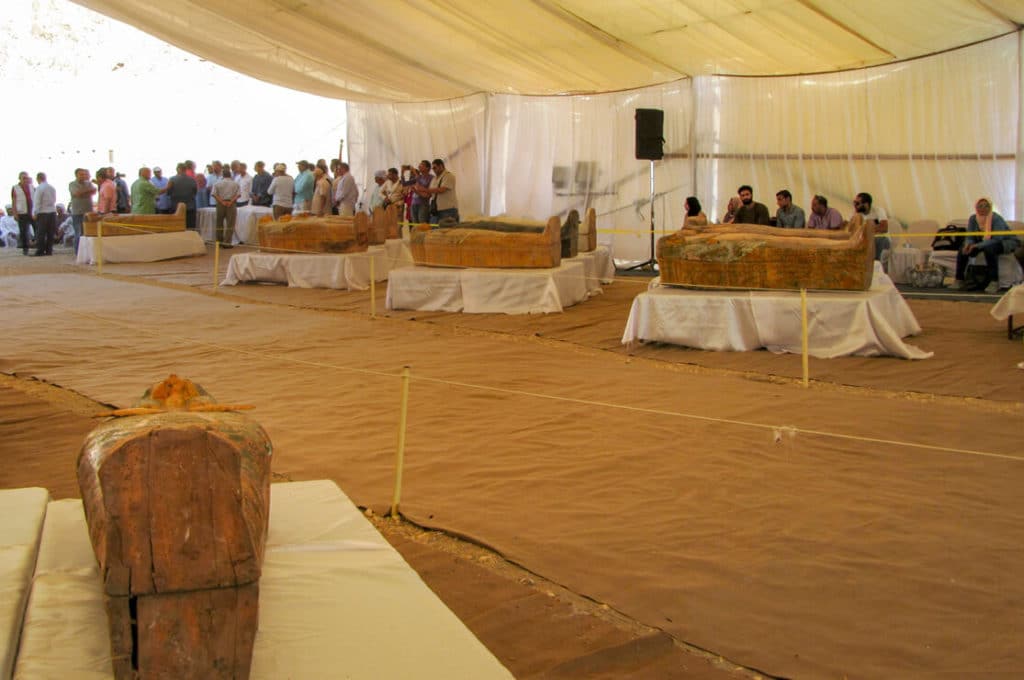 Minister of Antiquities, Dr Khaled El-Enany, explained how the sarcophagi were found by an Egyptian Mission led by Dr Mostafa Waziri, Secretary General of the Supreme Council of Antiquities.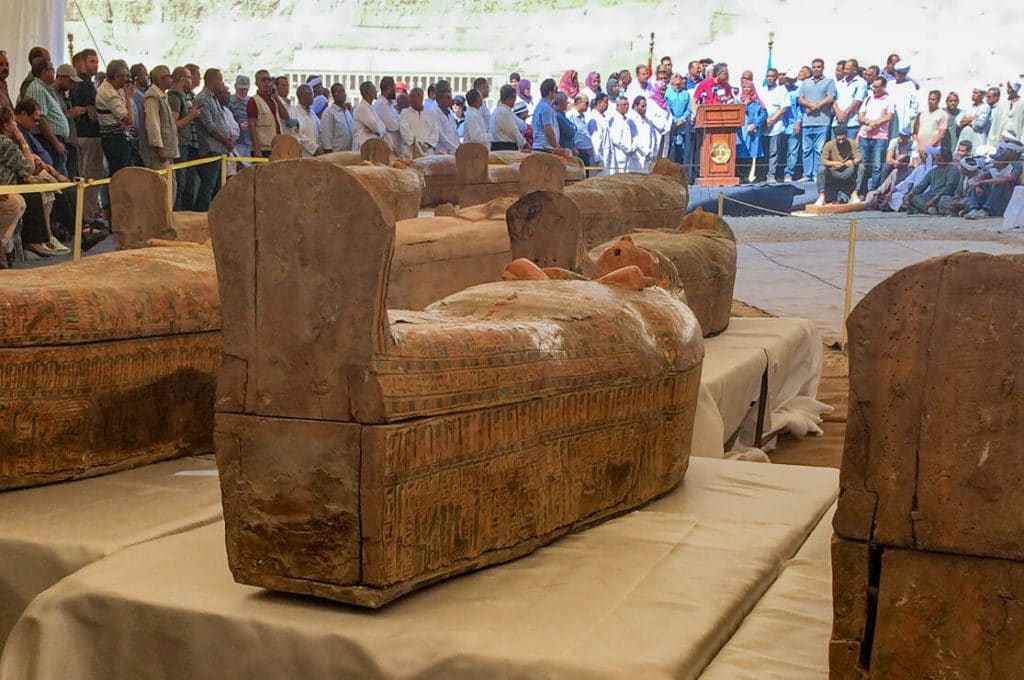 Dr Waziri also spoke at the conference and told us how the coffins were stacked in two layers and they had actually unearthed a cachette. These coffins seem to be sealed and intact and date from the 22nd Dynasty. Both men gave their announcements in Egyptian and English.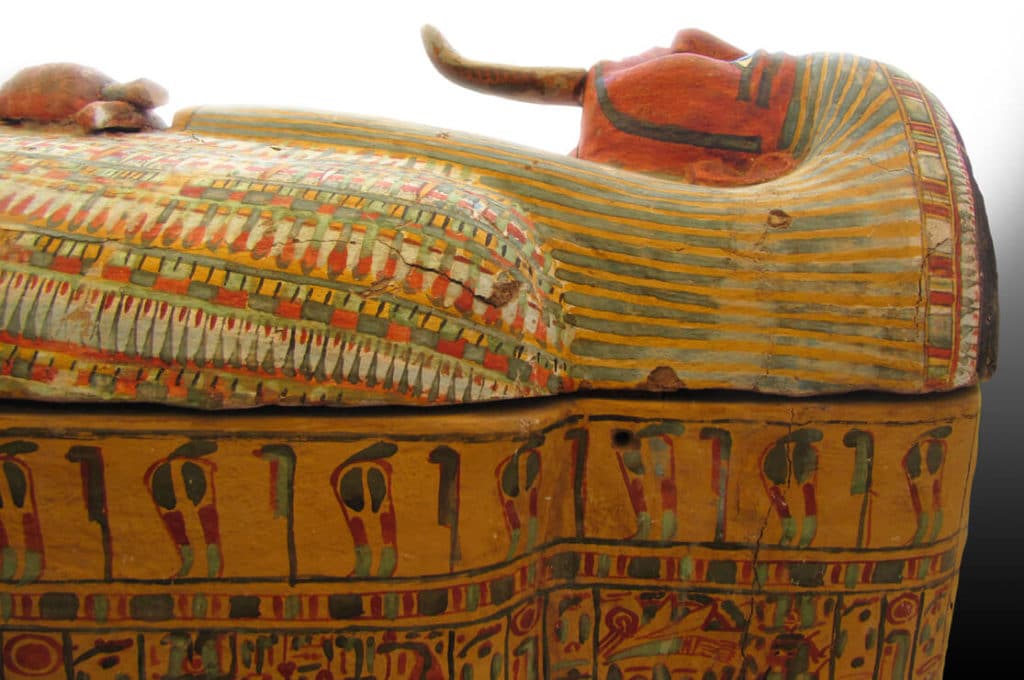 After the speeches came the time to open two of the coffins 'live' for TV. First the male coffin was opened and showed a remarkably well preserved mummy.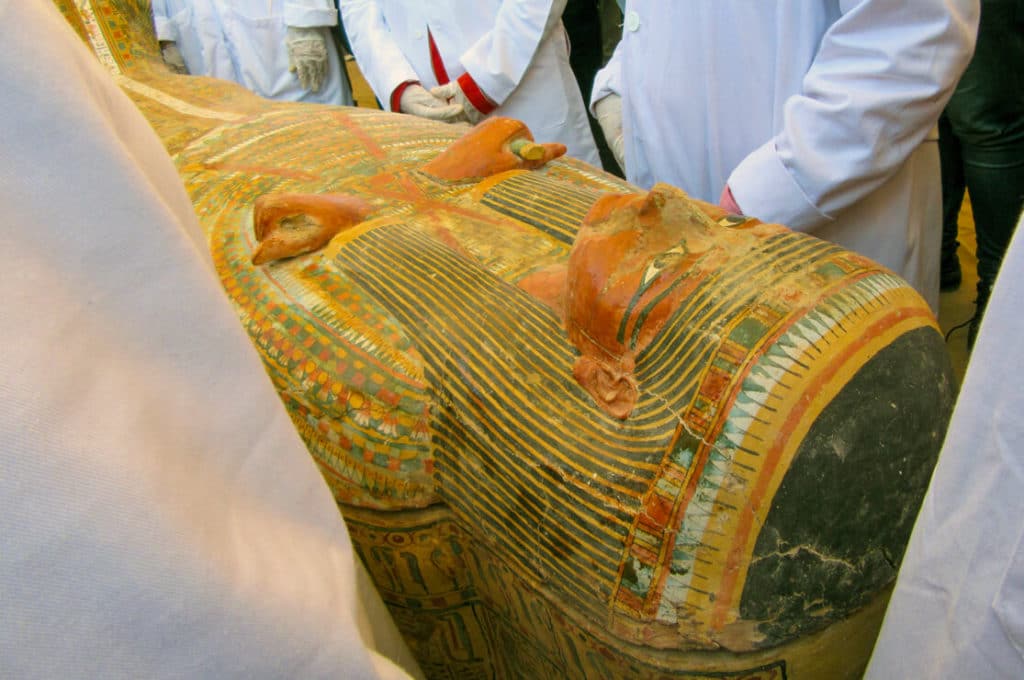 A short time for photos before moving over to the female coffin. After pictures were taken the two coffins were closed for the protection of the mummies as the crush of photographers was hard to control by then.
Time for El-Enany, Waziry and Zahi Hawass, who was also present to talk to the press and take a closer look at all of the coffins. It seemed that the event had caught worldwide attention.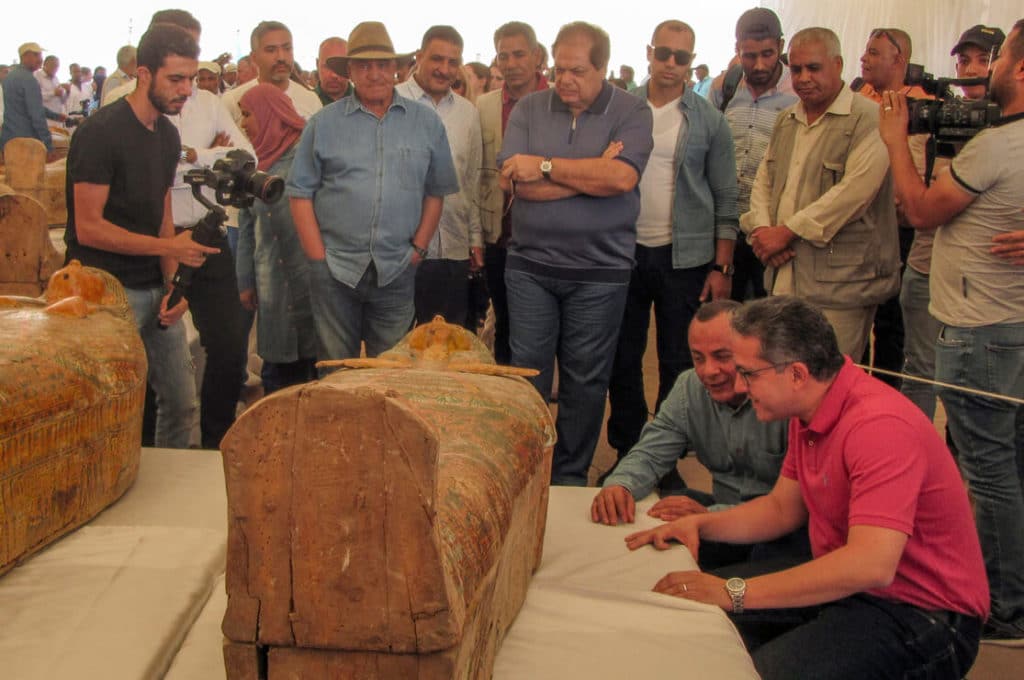 Then tourists, including our own AWT passengers, press and experts alike were allowed to wander through the collection to take photos close up. Dr Ayman Damarany, seen below, keeping a photographic record of the event.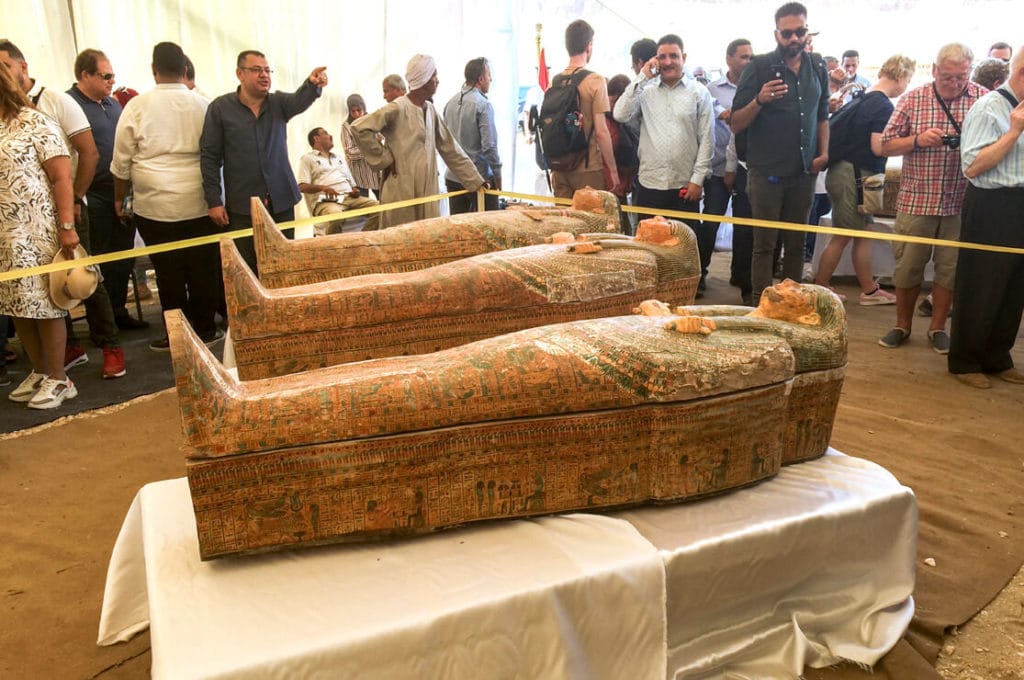 Especially moving was a child's simple coffin and although so many were beautifully decorated one appeared to be unfinished and another to have been neglected as it was almost black, but on closer inspection the artwork was clearly visible underneath the darker covering layer.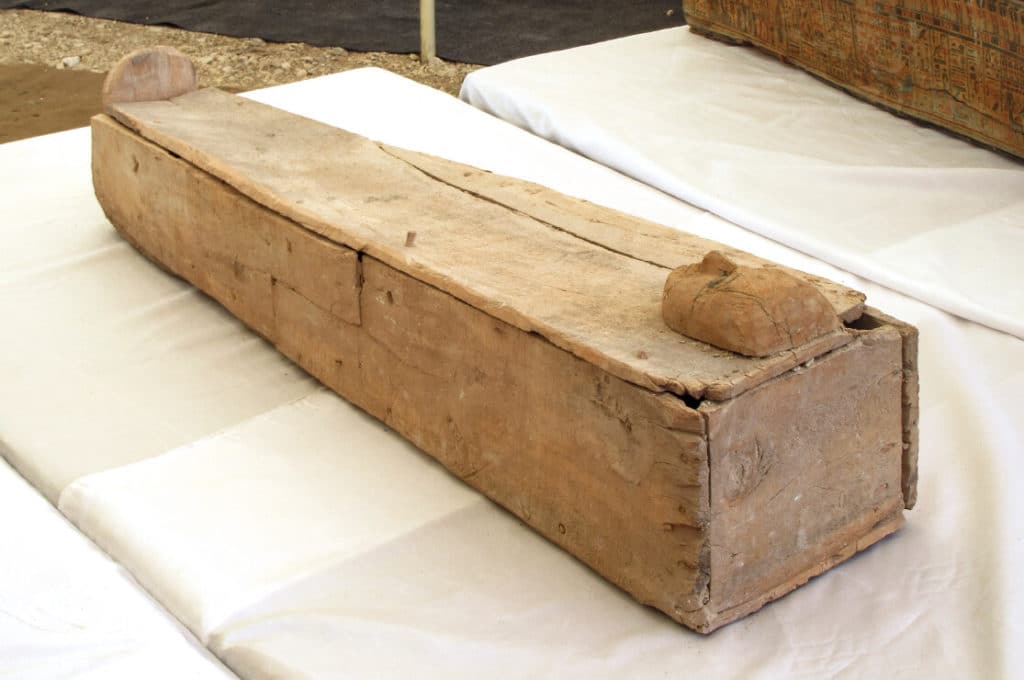 Evidently, after conservation and study the coffins will be on display in The Grand Egyptian Museum which we are told will open later next year.
Time to meet the experts and then back to the tour with our guide Medhat Saad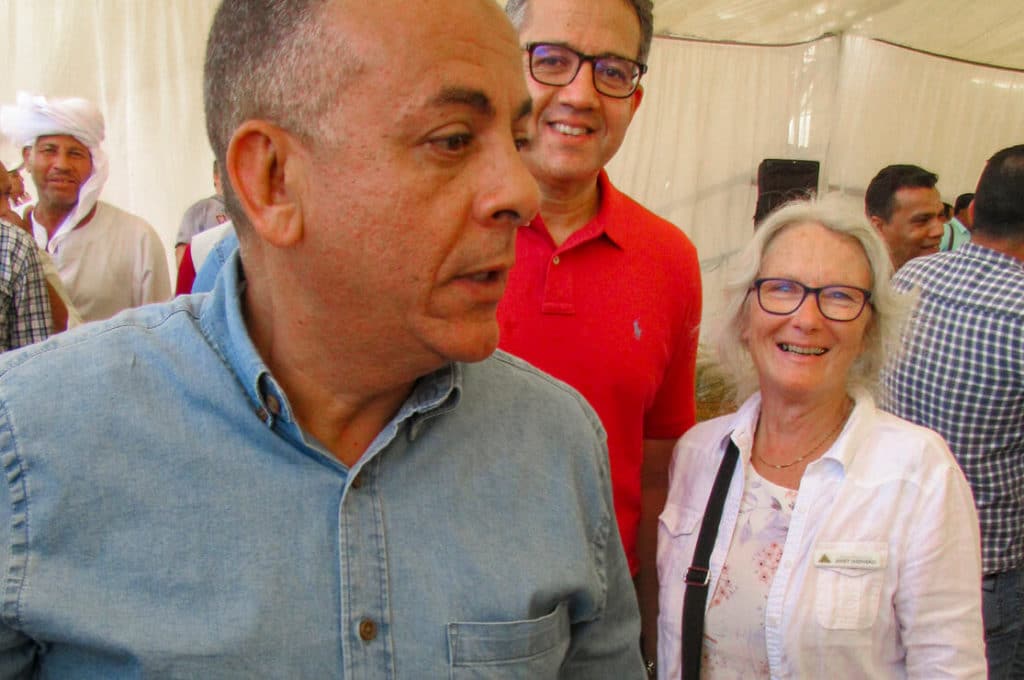 A day for passengers to remember as being that extra bit special!